COVID-19 Update
For the time being, COVID-19 is affecting TBI services.
TBI staff will remain available to you. You can email or call us. Please reach out if you have questions or needs.
Funds For You (FFY). TBI Clients are still able to work with their TBI Social Worker to submit and apply for FFY, we are just limiting home visits, and travel for our staff, so all FFY applications will need to be submitted via e-mail, mail, or planned ahead with your TBI Social Worker.
We want to make sure everyone is safe and healthy.
Training & Presentations: TBI has canceled all in-person trainings and presentations. TBI can offer trainings from a distance using Zoom. Zoom is a remote video platform. If you would like to schedule a training, please contact us. Also, keep checking back as we schedule online training opportunities.
Remember: The TBI staff are still here to support you in navigating life after a TBI. Please call or e-mail us, and we will be happy to be creative in ways to best support your needs.
Phone: 304-290-7412
Email: TBI@hsc.wvu.edu or Miranda.Talkington@hsc.wvu.edu
Special Projects
Needs Assessment
According to the West Virginia Department of Health & Human Resources, every year, as a result of TBI "3,600 West Virginians are hospitalized, 700 West Virginians die and 600 West Virginians experience a long term disability" . Yet, services for traumatic brain injury in West Virginia are limited. The TBI Services Program at the CED and the Medicaid TBI Waiver are the most widely used of these services. Although these programs can assist individuals in finding resources, the resources available are not always TBI specific. This study is an attempt to discover what services are needed, the quality of existing services and what barriers impede survivors from accessing these services.
National Mentorship
West Virginia is leading the nation and serves as a mentor to other states that are working to develop their services and supports for people with TBI. Currently, WVU CED TBI Services serves as a mentor in the areas of developing workforce capacity to serve people with TBI, reaching underserved populations, and advisory board development and survivor engagement.
Recognition:
In September 2018, West Virginia selected an undergraduate student and survivor to accompany team leaders for the National Association of State Head Injury Administrators Conference in Des Moines, Iowa. Rodney Smith and Sana Ghori traveled with Sara Miller and Teresa McCourt to participate in the conference.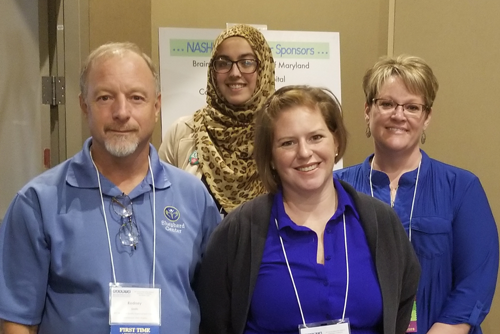 Rodney Smith, Sana Ghori, Sara Miller, Teresa McCourt
Simulation Laboratories:
Programs that provide TBI screening, TBI-relevant professional training, TBI information and referrals, and TBI-relevant resource facilitation are of critical importance in WV, where many residents lack resources and access to services. In order to achieve this level of professional expertise, it is important to begin training outside of social service arenas and begin putting focus on health professionals. Current practitioners (i.e., primary care physicians, nurse practitioners, nurses, physical/occupational/speech therapists, etc.) and students who are preparing to enter these professions need hands-on experiential training situations where the assessment, diagnosis, and treatment of TBI and TBI-related symptoms can be learned for future translation into the care of people with TBI. Multiple WV-based schools of medicine and health are already implementing TBI-related simulation labs. The TBI Services Program is dedicated to supporting and improving those simulation labs already in progress.