Conferences and Events
TBI Conference 2021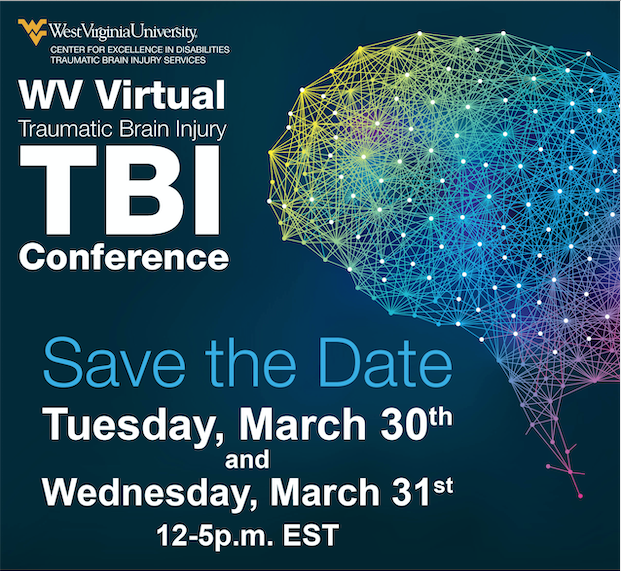 TBI across the spectrum from concussion to severe TBI. No brain injury is too mild or too severe to lose hope.
The WV Virtual Traumatic Brain Injury conference is hosted by disability partners across the state including the WVU Center for Excellence in Disabilities, WVU Division of Occupational Therapy, HealthWorks, Disability Rights of WV and WV Division of Rehabilitation Services.
The two day conference will provide opportunities for people with TBI and caregivers/family members of people with TBI, as well as professionals to attend sessions on best practices for serving individuals with TBIs. Topics include creative therapy, return to learn, communication strategies post TBI, and concussion management.
CEU's will be available for social work, educators, occupational therapists, nursing, counseling, and certified brain injury specialists.
More information on the TBI 2021 Conference
Past Conference Materials
TBI Conference 2019
2019 TBI Conference Presentations
TBI Conference 2018
Learn more about the TBI Conference 2018.
Interactive Exhibit: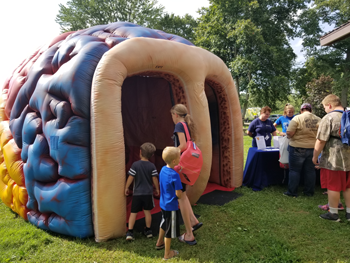 TBI services offers a fun and informative inflatable brain exhibit to help educate children and adults on traumatic brain injury, signs and symptoms, long term effects, and the importance of prevention. If you are interested in bringing the Big Brain to an event in your town, please fill out the form below and someone will contact you shortly. Please make all requests at least three weeks prior to your event. A fee is charged based on the location of the event.