Veteran Medical Information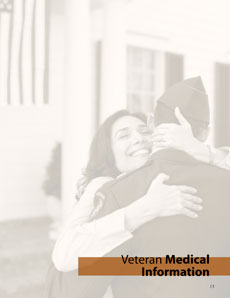 Department of Veterans Brain Injury Center
Who are they?
The Defense and Veterans Brain Injury Center (DVBIC) is:
a multi-site medical care, clinical research and education center
a unique collaboration of the Department of Defense (DoD), Department of Veterans Affairs (VA) health care system and a civilian partner
What do they do?
Develop and provide advanced TBI-specific evaluation, treatment, and follow-up care for military personnel, their dependents, and veterans with brain injury
Conduct clinical research that defines optimal evaluation and treatment for TBI
Develop and deliver education for prevention, treatment, and management of TBI
Call for more information, call 800-870-9244 or visit www.DVBIC.org.
Services Offered
Each local facility provides brain injury evaluations. Individuals evaluated at a DVBIC site receive a comprehensive assessment that can include any of the following examinations.
Neurological
Neuropsychological
Laboratory
Psychosocial
Audiologic
EEGs
Additionally, people admitted to inpatient TBI rehab programs at a VA site receive:
Psychiatric assessment
Occupational therapy
Rehabilitation therapy
Physical therapy
Speech therapy
Cognitive therapy
Psychology
Recreational therapy
West Virginia VA Medical Centers
 
Beckley
  200 Veterans Ave
  (304) 255-2121
877-902-5142  
 
Clarksburg
  1 Medical Center Dr
  (304) 623-3461
800-733-0512  
 
Huntington
  1540 Spring Valley Dr
  (304) 429-6741
800-827-8244  
 
Martinsburg
  Route 9
  (304) 263-0811
800-817-3807  
 
*A new center may be opening up soon in the Lewisburg area.
West Virginia VA Outpatient Clinic
 
Charleston
  104 Alex Drive
  (304) 926-6001  
 
Franklin
  314 Pine Street
  (304) 358-2355  
 
Logan
  513 Dingess Street
  (304) 752-8355  
 
Parkersburg
  2311 Ohio Avenue
  (304) 422-5114  
 
Parsons
  206 Spruce Street
  (304) 478-2219  
 
Petersburg
  Grant Hospital Rt 55
  (304) 257- 1026  
 
Sutton
  93 Skidmore Lane
  (304) 765-3480  
 
Morgantown
  40 Commerce Drive
  (304) 292-7535  
 
West Virginia Vet Centers
 
Beckley
  101 Ellison Avenue
  (304) 252-8220  
 
Charleston
  521 Central Avenue
  (304) 343-3825  
 
Huntington
  3135 16th Street
  (304) 523-8387  
 
Logan
  21 Veterans Avenue
  (304) 752-4453  
 
Martinsburg
  900 Winchester Ave
  (304) 263-6776  
 
Morgantown
  34 Commerce Drive
  (304) 291-4303  
 
Parkersburg
  2311 Ohio Avenue
  (304) 485-1599  
 
Princeton
  905 Mercer Street
  (304) 425-5653  
 
Wheeling
  1206 Chaplin Street
  (304) 232-0587  
 
West Virginia Veterans Nursing Facilities
 
Barboursville
  512 Water Street
  (304) 736-1027  
 
Clarksburg
  1 Freedoms Way
  (304) 626-1602  
 
National Cemetaries
 
Grafton
  431 Walnut Street
  (304) 265-2044