Education and Certification
As the lead state agency for TBI in West Virginia, WVU CED is proud to provide a Certified Brain Injury Specialist Trainer to offer specialized training for professionals, direct care staff, people with TBI and their families. Two certifications are available through this service:
Certified Brain Injury Specialist Training
ACBIS Fundamentals Training

The Brain Injury Fundamentals Program is a training and certificate program sponsored by the Brain Injury Association of America available to all individuals who are interested in learning more about the unique needs and challenges of those who have been impacted by Brain Injury. This program is designed for non-licensed direct care staff, individual caregivers, family members and friends, first responders and others, and covers topics such as:

Cognition
Guidelines for interacting and building rapport
Brain injury and behavior
Medical complications
Safe medication management
Families coping with brain injury

After completing this training program, candidates will receive a certificate that is valid for three years. If you are interested in learning more about this program, please contact April Fincham at afincha1@hsc.wvu.edu.

For more information on the Certified Brain Injury Specialist Training, please contact cortland.nesley@hsc.wvu.edu. For more information on ACBIS Fundamentals Training, please contact afincha1@mix.wvu.edu.
FREE CE Opportunity: Contextualized Treatment Helps Optimize Hospital TBI Outcomes and Community Participation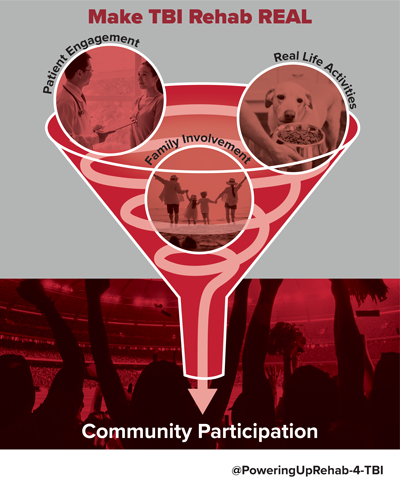 What happens in daily therapy sessions during acute inpatient TBI rehabilitation matters! The content of the therapy sessions may be even more important than the time spent in therapy. Evidence from a comparative effectiveness study lead by researchers at The Ohio State University demonstrates the association between real-life therapy activities (contextualized therapy) and outcomes at discharge from inpatient rehabilitation and up to 1 year following injury. Increasing the proportion of time spent doing real-life activities (contextualized treatment) during the inpatient stay is associated with being out of the house and more active in the community during the year following discharge from inpatient rehabilitation.
Providing contextualized treatment can be challenging in a hospital setting. With funding through the Patient-Centered Outcomes Research Institute (PCORI), a Dissemination Package has been developed to address this challenge. The Dissemination Package can assist acute rehabilitation facilities with incorporating a greater proportion of contextualized treatment into their daily therapy sessions. The package includes a review of the evidence to date, a menu of therapy activities to assist with treatment planning, methods for reducing documentation time, and pre/post surveys that can be used to assess clinical performance improvement relative to the use of contextualized treatment. A CE webinar is available to explain the evidence behind contextualized treatment as well as how to use the Dissemination Package.
Go to the Ohio State Brain Injury Prevention & Rehabilitation website and select Optimizing Rehabilitation Outcomes through Contextualized Treatment.